When the NHL submitted its latest proposal to end the lockout, it publically released details outlining its proposal in an attempt to show its fans that it was dedicated to getting a deal done.
The league then made a louder statement by rejecting all three of the NHLPA's counter proposals Thursday.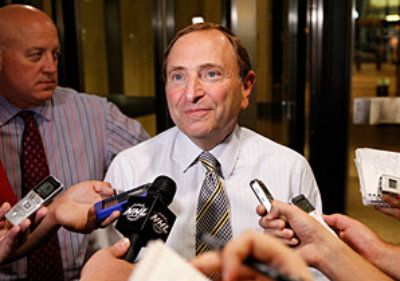 While the league and its player's association continue to bicker over how to share billions of dollars, its fans have become furious. NHL Commissioner Gary Bettman says he still hopes for a full season to be played this year, but that is looking more unlikely by the second.
"It is still my hope that we can accomplish my goal, the League's goal of getting an 82-game season, but I am concerned based on the proposal that was made today that things are not progressing," Bettman told NHL.com. "To the contrary, I think the proposal that was made by the Players' Association was in many ways a step backward."
"A step backward" is not what fans want to hear. The league in itself had just begun to recover from the lockout in 2004 and is beginning to ruin all of that progress while delaying this season. Players will continue to play elsewhere, while the league continues to ask them to take pay cuts and implement a salary cap much lower than what it was in the past.
The two sides obviously have yet to find common ground in their talks and it's looking more and more as if there may not be a season for 2012-2013. One can only wonder how Bettman, given his third lockout in his tenure, can continue to lead the league down this disastrous path.
Tags:
Buffalo
,
Buffalo Sabres
,
Hockey
,
NHL