A CBA offer from the National Hockey League on Tuesday – the first offer from either side in more than a month – would see league revenue split 50-50 with players and ensure a full 82-game schedule.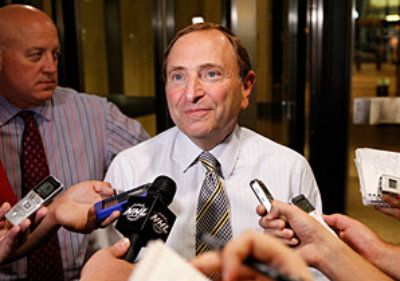 Among the key points of the deal:
It would last at least six years.
Players and the league would equally split hockey-related revenue.
A full schedule would be played. The already released schedule would pick up Nov. 2, with a few games added in on off days. The league would also add a couple weeks at the end, ending the regular season at the end of April.
The Stanley Cup finals could extend to the end of June.
Entry-level contracts would go for two years instead of three.
Players would not have to give back any salary.
Teams could exceed the salary cap of more than $70 million this season as part of a transition period.
Free agency would kick in at age 28 or after eight years of service.
Contracts would be capped at five years.
"If we didn't do it now, if we didn't put an offer on the table that we thought was fair and could get us playing hockey … then it probably wasn't going to happen for a while," Commissioner Gary Bettman said. "It's done in the spirit of getting a full season in."
Neither side has offered a proposal since the lockout began Sept. 15. The NHL Players Association met by conference call Tuesday afternoon to discuss the deal. Director Donald Fehr said the deal is a vast improvement in some areas, but more time would be needed to evaluate it. A counteroffer is expected within the next two days.
To meet the proposed schedule, training camps would have to open Oct. 26. That means the deal needs to be done by Oct. 25.
The two sides have lost an estimated $250 million in revenue so far with the cancelation of a week's worth of games. All games are scrapped through Oct. 24 officially.
Tags:
Buffalo
,
Buffalo Sabres
,
Hockey
,
NHL