If anyone has ever wondered what a professional sports team can mean to a community, they would have found a profound answer at the Buffalo Sabres' unveiling of a French Connection statue.
Hundreds of VIPs on the inner circle and fans flocked outside the gates in the plaza adjacent to First Niagara Center. Many of them risked tears freezing to their faces (and other bodily fluids, which might be compelled to flow in sub-freezing temperatures such as those experienced Friday) when a video featuring clips from the trio's playing days played during the unveiling ceremony.
Chants of "Let's go, Buffalo!" rang out as everyone speaker on stage had to choke back emotions in order to finish.
In spite of yet another lockout that's converted fans into third-class citizens, they're more than willing to thanks those who bleed and sweat for them.
That's part of what made Friday's ceremony so special. Sabres fans – Buffalo sports fans, in general – are loyal to their own. So even some 30 years after they last played, the French Connection is still as beloved an entity as there is in Buffalo sports lore.
"The stories are true. I used to sit out on the bridge with my radio trying to be able to tune in to Sabres games and hear these guys play," said Sabres owner Terry Pegula, who grew up in northeastern Pennsylvania. "They inspired me."
So they inspired many people. But they weren't specifically out for accolades during their playing days. Line member Rene Robert said the real dream came to life every time he and his linemates laced up their skates, getting to do professionally what they'd dreamed about doing since they played on makeshift ice rinks as boys:
"Every shift of every game, every period of every year, we had so much fun."
The trio of Robert, Gilbert Perreault and Rick martin remained tied to the Buffalo region ever since – in the case of Martin, in fact, for the rest of his life. He lived in suburban Clarence until he died of heart problems in March 2011. His son, Cory Martin, spoke on his father's behalf Friday. He said he can't wait to bring his future children to the plaza to see their immortalized grandfather.
"It's extremely humbling to see what love the city has for these players and this team," said a tuxedo-clad Martin, who repeatedly had to fight back tears during his brief speech. "He'd be proud to stand here and thank everybody."
The statue stands as the centerpiece of the new Alumni Plaza. Featured are brick pillars, with each one representing a different decade of Sabres hockey. A new mural now also graces the walkway into the arena featuring 19 of the team's all-time greats, including Jim Schoenfeld, Mike Foligno and Ryan Miller.
Pegula had repeatedly stated his intentions to honor the team's past and said Friday was a first step toward doing so:
"Every Sabres alumni … you can't believe how much you're appreciated by me and Kim (Pegula' Terry's wife) for all you've done, all your sweat."
The statue is based on a 1975 picture by Ron Moscati, one of the few pictures in existence of all three players in action. The statue features 7 1/2-foot-high bronze depictions of each player. It was designed by Jerry McKenna, who also did statue work at Notre Dame Stadium. A lighted pedestal was built by HHL Architects of Buffalo.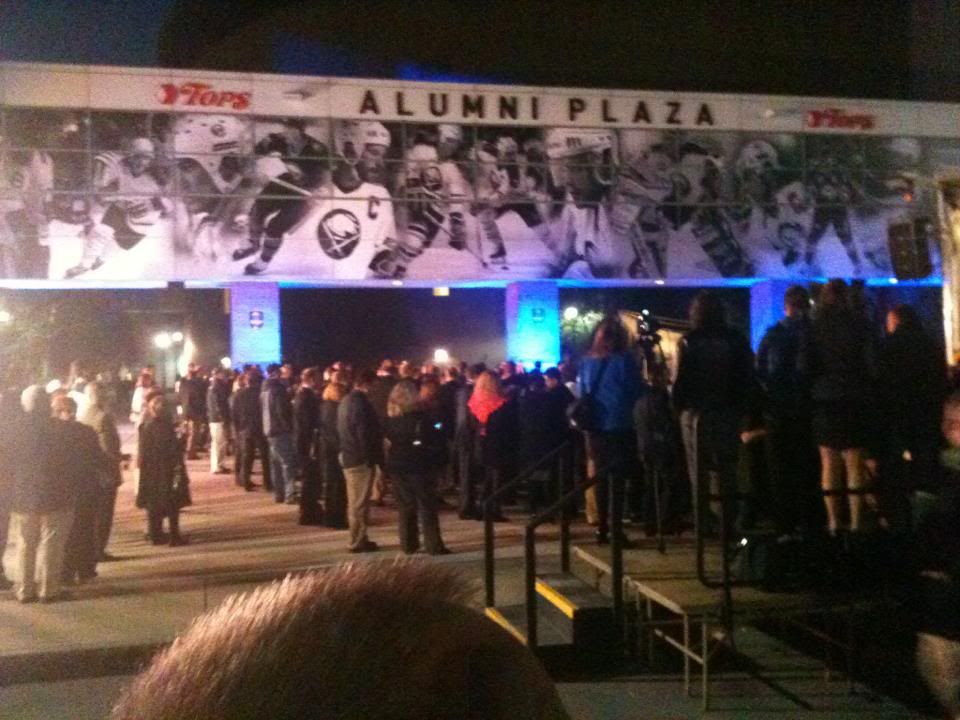 Career statistics
Rick Martin: 685 games, 384 goals, 317 assists, 701 points; two 52-goal seasons
Gilbert Perreault: 1,191 games, 512 goals, 814 assists, 1,326 points; 44 goals in 1975-76
Rene Robert: 744 games, 284 goals, 418 assists, 702 points; two 40-goal seasons
Tags:
Buffalo
,
Buffalo Sabres
,
Hockey
,
NHL