A second straight day of talks took place Saturday between the NHL and its players association, but just how close a new CBA might be from happening remains unclear.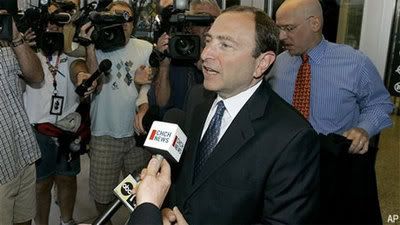 NHL Commissioner Gary Bettman and NHLPA Director Donald Fehr met privately in New York while representatives from the two sides met separately in the Big Apple. Fehr declided to offer specifics but said he and Bettman focused on bridging the gap that remains between the two sides so that the season might start on time Oct. 11:
"I spent a few minutes with Gary talking about the overall situation and we agreed to keep in touch. I'm sure we'll talk again, tomorrow."
In group sessions, talks centered around hockey-related revenue and on what parts of the current CBA to carry forward.
"There is an agreement in large part, I thought, to maintain the current language," Fehr said. "There are some issues, in certain circumstances, about what the current language means."
Not discussed, though, was what the breakdown of revenue should be. Players got 57 percent of hockey revenue under the previous CBA, which expired Sept. 15. Owners want that number brought below 50 percent in any new deal. Failure to agree on a number was key to the lockout starting Sept. 16.
Both sides say they're waiting for the other to make the next CBA proposal. talks ceased after four hours Saturday and will continue Sunday. These are the first formal talks since the lockout commenced.
Tags:
Buffalo
,
Buffalo Sabres
,
Hockey
,
NHL