The NHL and its players association met Friday for the first time in weeks. One would have assumed the two sides would have more to talk about.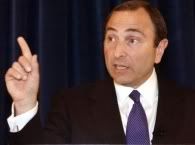 Meeting in New York, the league and the NHL Players Association discussed issues Deputy Commissioner Bill Daly said were required parts of a new CBA but "not the most important things we can be doing." Over six hours, they talked about player safety, drug testing, training camps, scheduling and working conditions.
"I don't want to use the adjective optimistic, but it was a productive discussion," NHLPA Special Counsel Steve Fehr said. "We had a good session. Hopefully, it will continue and build momentum."
Commissioner Gary Bettman and NHLPA Director Donald Fehr skipped the morning session but attended the afternoon session.
The two sides hadn't formally met since the lockout began Sept. 16, when the previous CBA expired. The lack of movement in talks forced the cancelation of all preseason and threatens the start of the regular season, slated for Oct. 11.
Meetings are slated to continue Saturday and Sunday. Hockey-related revenue issues are slated to be on the agenda, but the distribution of revenue is not expected to come up.
Both sides continued to blame the other for not budging Friday when asked why core economic issues aren't being discussed. Daly said, despite the seeming lack of movement in talks, the urge to get the season going is as present as ever:
"I don't think it can be any more urgent than where we are now. We've had that level of urgency for a long time, but as I've said, you can meet all you want, if there is no compromise or no movement or no new proposals, I'm not sure at the end of the day what you're meeting over. I think there is a very high degree of urgency certainly on our side. I can't speak for their side, but I'm sure they would tell you there is a degree of urgency there, too."
Tags:
Buffalo
,
Buffalo Sabres
,
Hockey
,
NHL