The NHL has been locked out more than a week without any movement, but that's finally about to change.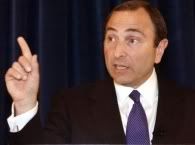 The league and its players association are set to meet Monday for the first time since Sept. 12. Rather than discuss a new CBA, though, the two sides are set to discuss hockey revenue generated last season.
The lockout has been in effect since Sept. 16. The meeting will take place Monday morning in Toronto.
Tags:
Buffalo
,
Buffalo Sabres
,
Hockey
,
NHL