Buffalo Sabres defenseman Robyn Regehr was among the NHL players at the bargaining table as the league and its players association took what might be the last gasp at starting the 2012-13 season on time.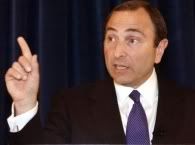 With the current CBA set to expire Sept. 15, the two sides agreed to Friday's session to try once again to close the gap that's hampered their talks for months. Friday's session wasn't formal, but those involved say it was a step toward getting the process going again after talks stalled the previous week.
"Why did we meet? We want to make a deal," Commissioner Gary Bettman said. "I know it's difficult when every breath we take is chronicled, but there is an ebb and a flow to collective bargaining negotiation and sometimes it makes sense to get together and sometimes it makes sense to take a breath."
Bettman said, despite the lack of formal sessions, negotiations have never completely stopped. The two sides are at odds over several issues, key among them revenue. The owners want the players to reduce their collective share of hockey revenue from 57 percent to 46 percent, which the NHLPA says isn't nearly enough of a concession on their part. The players also want to see greater revenue sharing to allow less successful clubs a chance to compete, something the owners have been reluctant to embrace.
The NHLPA will host player meetings Wednesday, while the league's Board of Governors will convene Thursday. Bettman is expected then to sew up support to call for a lockout once the CBA expires. A lockout would threaten the scheduled Oct. 11 start of the regular season.
Donald Fehr, head of the NHLPA, said there's no timetable as to when negotiations will resume. He disputes the league's claim that the owners need to lock out the players, saying the NHLPA would be willing to play under the current deal's terms while negotiations continue:
"A lockout is very much a choice. No law compels a lockout. The owners seem intent on making that choice, and doing so at the first possible moment."
Tags:
Buffalo
,
Buffalo Sabres
,
Hockey
,
NHL