If the NHL and its players need any additional motivation to get a new bargaining agreement done, all they need to do is check out major sports websites.
The NHL is still fourth on the rundown of sports atop espn.com, but hockey is seventshat Sports Illustrated's site - behind golf and college basketball, which hasn't had a game in four months. And at CBS Sports, it falls into the "more sports" category, mixed in with bowling and professional bull riding. Ahead of it on the banner are tennis and high school sports. Same thing at Fox Sports, where soccer and UFC make the banner ahead of hockey.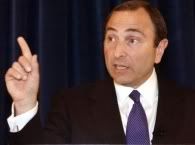 The point is, the National Hockey League is already a second-rate sports league on the national scope (sorry, hockey fans, it's true, despite how great the game is). If the sport were to go on hiatus next month for the second time in a decade, it might soon rank behind chess and cheerleading in the annals of fandom.
And yet, neither side seems to be doing enough to prevent a lockout once the current CBA expires Sept. 15. Three days of talks this week yielded little progress, with the two sides even disagreeing on who disagrees. NHLPA Executive Director Donald Fehr said the owners elected to call off talks Friday, a claim NHL Commissioner Gary Bettman rebuked.
The league had made another offer earlier this week that offered some concessions but still called on players to take a significant revenue decrease – from 57 percent of league revenue to 46 percent. Players are reluctant to take more salary cuts, though, and offered a three-year proposal that limited salary growth; the league showed no interest in that offer.
"The response that was made to us was that if the players are not prepared to make an automatic reset on their aggregate salary levels – that is to say, as we understand it, a meaningful, absolute reduction in dollar terms for next year as compared to last year – that they see no point in discussing or responding to the proposals we put forward at the meeting today," Fehr said Friday.
No further talks are scheduled as of yet, but both sides say they're willing to return to the bargaining table if there are new topics to discuss. Meanwhile, as this game of chicken continues, the league's fans – what's left of them, are left in the proverbial cold that will become literal without their favorite game to warm their spirits as the seasons turn chillier.
Tags:
Buffalo
,
Buffalo Sabres
,
Hockey
,
NHL