As the expiration date of the current NHL CBA looms, the league and its players' association still have yet to close the gap that exists when it comes to the economic issues of the game.
"Whether or not we're talking about these contract or system issues, or if we're talking about revenue sharing, it's clear that we're at a point that it's going to be very difficult to move this process along until we deal with the fundamental economic issues," NHL Commissioner Gary Bettman told NHL.com. "Certainly as it relates to the fundamental economic issue we are far apart both in terms of magnitude and structure. That is something we're trying to get a handle on."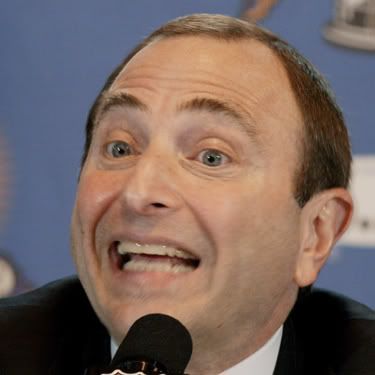 The current CBA will expire on Sept. 15, leaving the two sides little time to reach a deal before fans go into extreme frantic mode. While Bettman admits that hockey related revenue is a major key in getting a new agreement in place, but says that he doesn't feel that revenue sharing is the problem.
"I know there is a lot of finger pointing to revenue sharing, which I don't understand," Bettman told NHL.com. "By any measure, in comparison to other leagues, on any basis, we've had significant revenue sharing. Our initial proposal offered to increase revenue sharing in terms of the magnitude of the pool and the parties, the clubs that are included. We're not that far apart. I think they proposed a $240 million pool; we're (proposing) a $190 million pool. That's not a real issue from our standpoint. We are prepared to revenue share. I'm not sure why there is a fixation on it. There is no internal dispute on it from the League's standpoint."
The union proposed that the hockey related revenue increase gradually per season, 2 percent in 2012-13, 4 percent in 2013-14 and 6 percent in 2014-15, and that the NHLPA would have an option for that revenue to return to the 57 percent that it is at now in the 2015-2016 season.
Bettman says that owners feel they are paying too much in player salaries. The average salary increased from $1.45 million in 2005-2006 to $2.45 million in 2011-2012.
As the two sides continue to bicker amongst each other over who gets more of the millions of dollars to be had, one thing seems to be certain:
The 2012-2013 NHL season is in serious jeopardy.
Tags:
Buffalo
,
Buffalo Sabres
,
CBA
,
Hockey
,
NHL