The National Hockey League mentioned the "L" word in its ongoing talks with the NHL Players Association, showing once again the disregard the league has for its fans.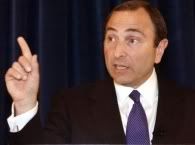 Commissioner Gary Bettman said this past week the league has every intention of locking out the players if the sides can't agree on a new CBA after the current one expires Sept. 15:
"I reconfirmed something that the union has been told multiple times over the last nine to 12 months, namely that the time is getting short and the owners are not prepared to operate under this collective bargaining agreement for another season, so we need to get to making a deal and doing it soon. And we believe there's ample time for the parties to get together and make a deal, and that's what we're going to be working toward."
Hopefully that work s being undertaken in earnest, because another lockout less than a decade after the canceled 2004-05 season would be the biggest possible middle finger a professional sports league could give to its fan base. NHLPA Executive Director Donald Fehr said, even six weeks after talks started, a sizable gap remains between two sides.
The owners are right that the league can't continue how it is. The tentative salary cap for 2012-13 of $70.2 million is about double the $39 million cap that was in place the first year of the CBA. The league still essentially operates without a TV deal that pays the league any money, leaving sponsorships and ticket sales as the main revenue sources.
But those same fans who keep he league afloat simply don't deserve another lockout. There's ample time to get a deal done, but if not the league should do the right thing and play under current terms without a CBA until a deal is done – a move Fehr confirmed is allowable. The league should at least open training camps while a new deal is being finalized.
Economics will remain a key part of negotiations when they resume next week in Toronto. The NHLPA is expected to offer a counteroffer Tuesday to the league's initial proposal, which proposed salary scale backs and further limitations on free agency.
Players will naturally fight for every dollar they can, but there is middle ground to be found. And it will be found. But if it isn't found by Sept. 15, there's no reason to suspend operations. Fans deserve better. They came back once. And they'd have every right not to come back again.
Tags:
Buffalo
,
Buffalo Sabres
,
Hockey
,
NHL