The NHL and the NHLPA are working diligently to come to a new collective bargaining agreement as the one in place is set to expire on Sept. 15.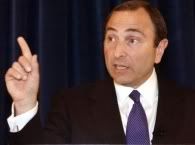 The two groups finished a three-day session Thursday and plan to get back to work Monday.
The major focus of the last session was player benefits.
"The Players' Association made a couple of presentations, one on player pensions and the other on player health care and insurance," Commissioner Gary Bettman told NHL.com. "Then there was a pretty good discussion on playing conditions in a smaller group, having to do with things like training camp and ice conditions."
NHLPA special assistant to the executive director, Mathieu Schneider said that the player's association wants to address issues that haven't been addressed in quite some time.
"Some of the issues haven't been addressed since '94 or the late '90s," Schneider told NHL.com. "It's a process. There's an awful lot of stuff in that 600-page book and we're trying to get through all the issues."
Schneider told the website that the discussion on training camp varied, from the length of camp, to testing to preseason requirements.
"They are all areas for discussion and I think there are a lot of these issues we have the same common goal, and it's coming to agreement in how we get to that goal," Schneider told NHL.com. "That's a lot of what happened today."
It seems like the NHL and NHLPA are working hard to get a deal done, which is great news for hockey fans who fear another lockout, similar to 2004.
Tags:
Buffalo
,
Buffalo Sabres
,
collective bargaining agreement
,
Hockey
,
NHL
,
NHLPA